When selecting jewelry, women are always told to pick pieces that match their skin tones. Gold goes well with warm, olive skin, whereas silver is perfect for cool, ivory skin tones. This might have been the standard five years ago, but today it's rather limiting for women who enjoy the warmth gold jewelry brings, but are scared it will clash with their outfit or skin.
Our jewelry experts at PANDORA of Quaker Bridge want to highlight some of the gorgeous gold inventory currently in stock,because this summer, we are all about the versatile and warm energy our 14K gold bracelets, charms, rings and necklaces embody.
PANDORA Bracelet in 14K Gold
The PANDORA 14K Gold bracelet is an excellent starting point to start building your gold charm collection. This gold bracelet uses a sturdy barrel clasp to keep charms secure and in place at all times. Women can purchase this bracelet in lengths ranging from 7.1" inches to 9.1" inches, for the perfect fit!
PANDORA 14K Gold Chain (varying sizes available)
An absolute staple for the golden girl, our PANDORA 14K gold chain is a timeless piece, ideal for showing off all of your favorite  pendants. Our gold PANDORA necklaces, available near Princeton, NJ, come in lengths of 42cmto 60cm, depending where you want it to lay on the chest.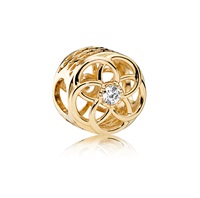 Loving Bloom Charm in 14K Gold
Delicate and dainty, the loving bloom charm is a 14K gold stunner. It's intricate floral design includes a small precious stone in the center, bringing a sense of luxury to the wrist. Dress it up, or dress it down, the possibilities are endless!
Linked Love Stackable Ring, 14K Gold
No gold jewelry collection is complete without a beautiful 14K yellow gold ring to pair with your necklace and bracelet. The linked love stackable ring features radiant openwork hearts and stacks well with PANDORA's other stackable ring selections. This ring can be purchased in sizes 4.5 to 9.
All of these dazzling 14K pieces are available in-store and can be purchased at our PANDORA store near Princeton, NJ, for utmost customer convenience. To view our full inventory of products, silver included, please also feel free to browse our site.